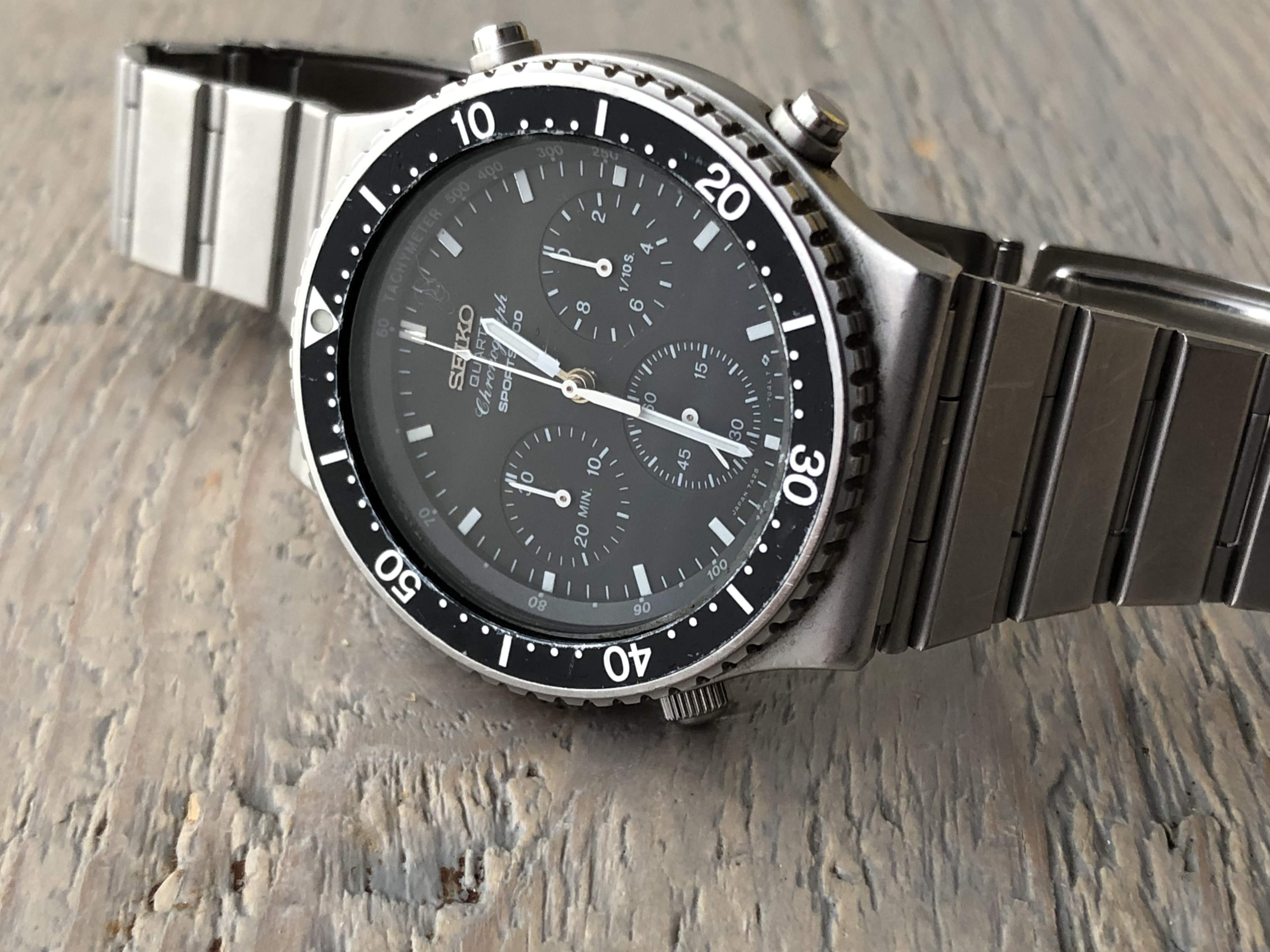 Seiko Quartz Chronograph 7A28-7049 (Sold/Consignment)
Sold out
Perfectly functioning South African Air Force (SAAF) pilot's watch.. fits 187mm around, but comes with a spring-loaded buckle extender too so that it will fit comfortably during the most strenuous aviation maneuvers! You know how it is...

----------
Manufacture: Seiko
Model: Sports 100
Reference: 7A28 7049
Movement: Quartz at 15 spm Seconds PM
Battery: SR936SW~394 (battery) 2yr
Serial No.: 77xxxx
Case: Military 40X43X11mm without crown
Crystal: Mineral 31mm, Serial#: 310W64GN00
Dial: Black
Bracelet: Original 187 mm around
Production: 1987

------------
Seiko's 7A28 chronograph series consists of no less than 42 variations, including models issued to the military and those used in movies. Two models from the 7A28 family were featured, one in the 1986 sci-fi flick "Aliens" - the silver and black 7A28-7000 - and another one was used in the James Bond film "A View to a Kill" starring Roger Moore - the 7A28-7020 model SPR007.
Rather than a modular, disposable plastic movement, the 7a series had a proper, quasi-decorated 15 jewel metal movement that could be regulated, disassembled and repaired. It even has a very traditional finger damper spring on the centre seconds pinion. Seiko really threw investment, thinking and effort into this one. This explains why, despite often impressive abuse, so many survive. Notice those little rectangular plates over parts of the movement? Each of those protects a tiny stepper motor – one for each of the chronograph functions. And that's what this watch is all about. With this movement, Seiko boasted 10 seconds per month accuracy. Seiko also manufactured 7A38 series movements which were a day/date complication, and 7A48 movements which were a moon phase complication, but these are not explored in this article.
In the mid 1980s, the watchmaker released its Seiko 7A28-7120 variant with reference number SPR047 and NATO Stock Number (NSN) 6645-99-768-3056 to be used by the ministry of defense's Royal Air Force (RAF). Gen. 1 RAF-issued Seiko watches were on the wrists of British Air Force pilots and navigators from October 1984 until November 1990. The 7A28 movement was replaced by the Seiko 7T27 caliber in 1993.
Other than the RAF, Seiko also supplied the South African Air Force (SAAF) with its 7A28 movement – the 7A28-7040 & 7A38-7070 - from 1985 to 1986. The Seiko 7A28-7049 is a 7A28-7040 that belongs to the Sports 100 collection. This is indicated by the "Sports 100" mark on the dial below the cursive "Chronograph". The -9 designation means it was for the American market.