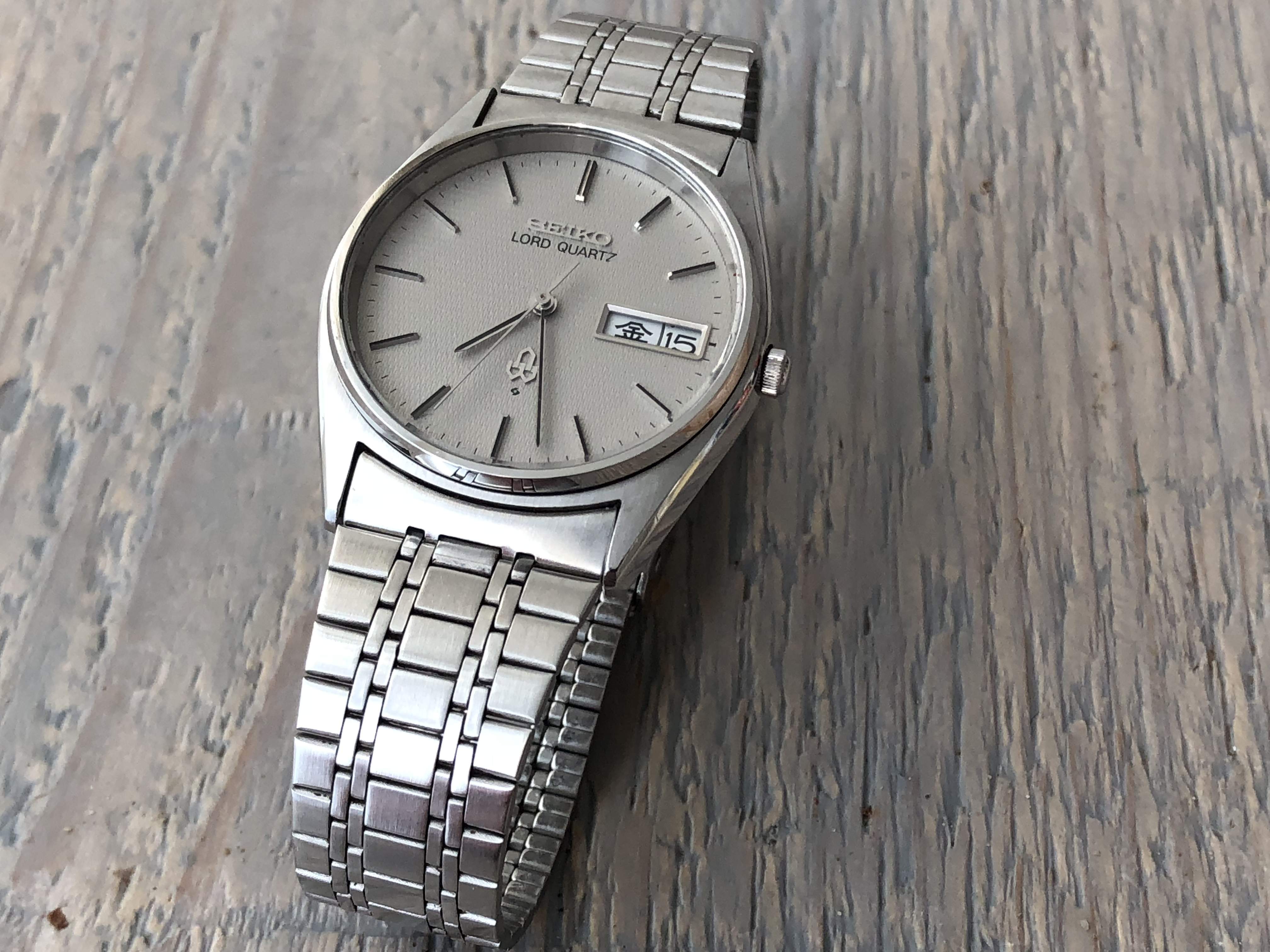 Seiko Lord Quartz 8243-7040 (Sold)
€135.00
Sold out
In 1978, when the Lord Quartz was introduced and positioned just below the King Quartzes, it was more expensive than a lot of the King Quartz 4823 calibers. Admittedly the 482x was showing its age, but was still perfectly adequate, indeed 40 year onwards these calibers just keep on ticking precisely. But so do the LQ's. Although the Tank styled watches in particular, with calibre 7853 were at the top of their range and first to see the light of day, the beauty of this simple grey dial design is apparent.
There is no mistake here, this high end caliber with a 5 year battery life runs at 10 seconds per month! Just like the King Quartz. But unlike the Kings, these Lords are very rare watches to obtain. Either because of the value of the high rollers (costing about 560 euro, inflation corrected) or because the lower range, at 36% percent less (costing about 380 euro), was just cheap enough to simply wear into oblivion. It doesn't help of course that these watches were produced only in a three year span between 1978 and 1980.
That this product line spoke to the imagination is apparent as Seiko has revived the Lord name in a current line of watches, these are much easier to obtain of course. The vintage Lord Quartz however remains a bit of a unicorn - it does not sit in the house of commons with the other types (II) just below it, but is definitely a backbencher these days while the kings get all the glory. Buy them while you can, they won't last forever.
Manufacture: Seiko
Model: Lord Quartz
Reference: 8243 7040
Movement: Quartz at 10 spm Seconds PM
Battery: SR936SW~394 (battery)
Serial No.: 90xxxx
Case: Classic 36x41x11mm without crown
Crystal: Acrylic, Serial#: 285W10GN00 (CRY-4260)
Dial: Grey
Bracelet: CA071 210 mm around, bracelet links:
Lugs & Clasp: 18mm lugs
Production: 1979
Condition: 07 - Good: very clean, some light scratches case & crystal, easily polished
Service: Not necessary
Box: No
Papers: No