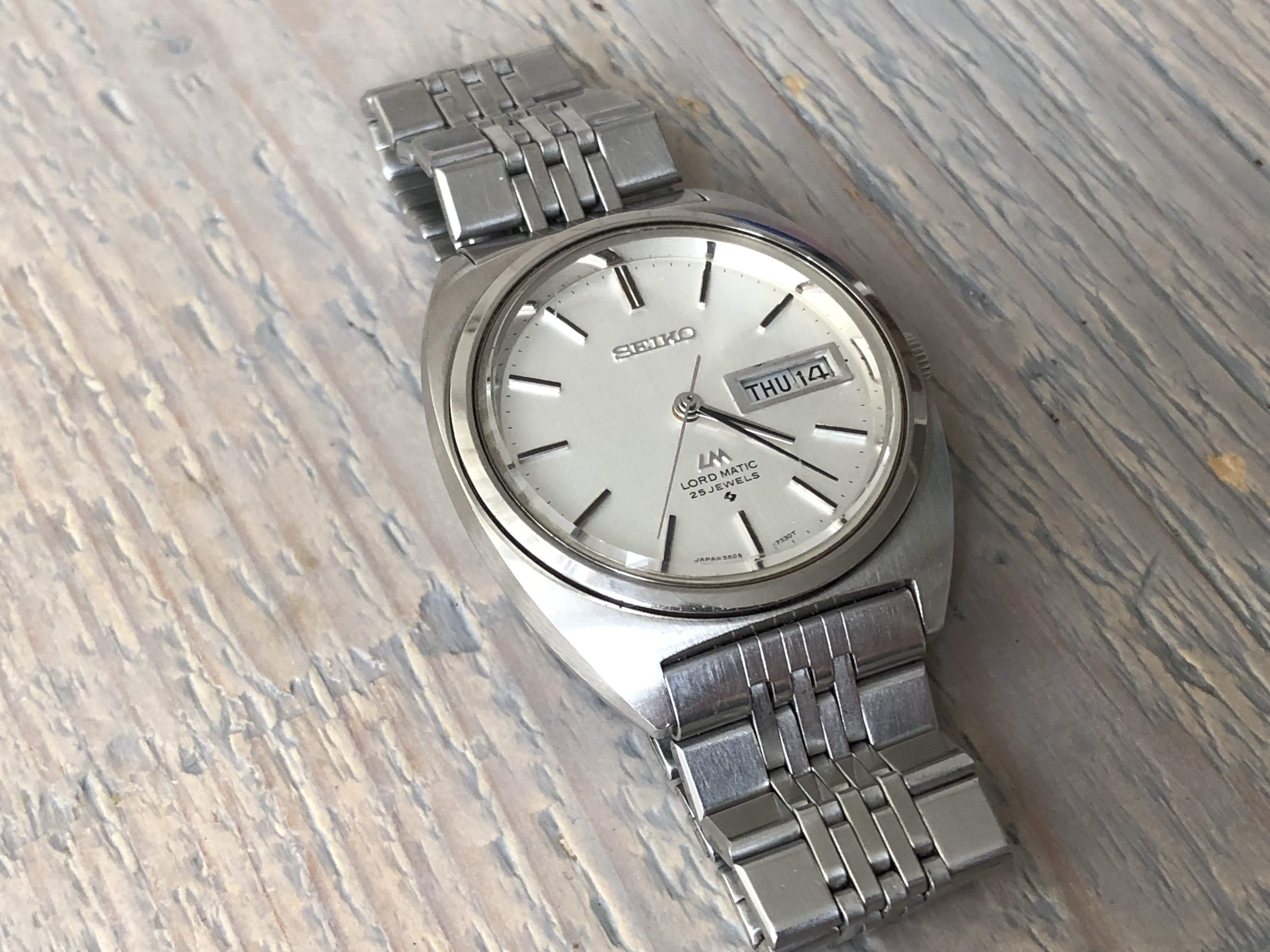 Seiko Lord-Matic 5606-7140 (Consignment/Sold)
€200.00
Sold out
We vouch for this consigned 5606 Seiko Lord-Matic. It is a Suwa division watch that has a self-winding 25 jewels King Seiko 56 base movement - a high end automatic that was thinner then all other auto's of the time.
The watch has a 21600 beat rate, offers quick set day and date, hand winding and the ability to precisely set the seconds though a hacking lever. The 56 stream seems to have been developed between two other caliber streams, the 51 (starting in 1967), and the 52 (starting in 1970). When the 51 was developed, it had a thickness of 4.9mm. The 56 had a reduced thickness of 4.3mm, and the 52 further reduced the movements thickness to 3.9mm. In this continuing effort to reduce the thickness of its mid to high grade movements, many novel design elements were incorporated into this 5606.
At the beginning of their roughly ten year production run, during the late 1960's till 1970's, the Lordmatics were a one piece design (as this one is) in that you could only remove the movement from the front, thereby increasing the water-proofing. For maintenance of the watch, it is opened through and by removing the acrylic glass.
Although the 56 series was later upgraded and used in some chronometer grade King Seiko's, I find it sad that it was not chosen for the task when Seiko made the decision to resurrect the 52 series as the 4s15, with all of its siblings. I really think Seiko was approaching the epitome of automatic movement design in this caliber, and the 4s series is a compromise of some excellent ideas
This JDM edition then, English and Kanji (Japanese) day, has been undisturbed, stored for many years, but still moving flawlessly after a Seiko shake with a day difference within COSC. The wow factor is very much present with this one. On the inside this watch is no less impressive in this day and age. The calendar changes accurately (and immediately) on the 24 hour mark and the crown works fine adjusting the day of the week or time. Of course, this Lordmatic has the quickset day-date (QS) and can be hand-wound, and is with hacking function.
However, all 56 LM calibres apart from the 5601 do have the plastic component prone to wear in the QS mechanism, which is often inoperable. Here no problems naturally, just make sure to always adjust the day at the end of the day at around 6 PM.
Manufacture: Seiko
Model: Lord-Matic
Reference: 5606 7140
Movement: Automatic at COSC!
Jewels: 25 jewels
Serial No.: 08xxxx
Case: Cushion 36x42x10mm without crown
Crystal: Acrylic, Serial#: 300V04GNG0
Dial: Silver Linen
Bracelet: XJA121 195 mm around
Lugs & Clasp: 19mm lugs
Production: 1970
Condition: 07 - Good: very clean, some light scratches case & crystal, easily polished
Service: Not necessary
Box: No
Papers: No