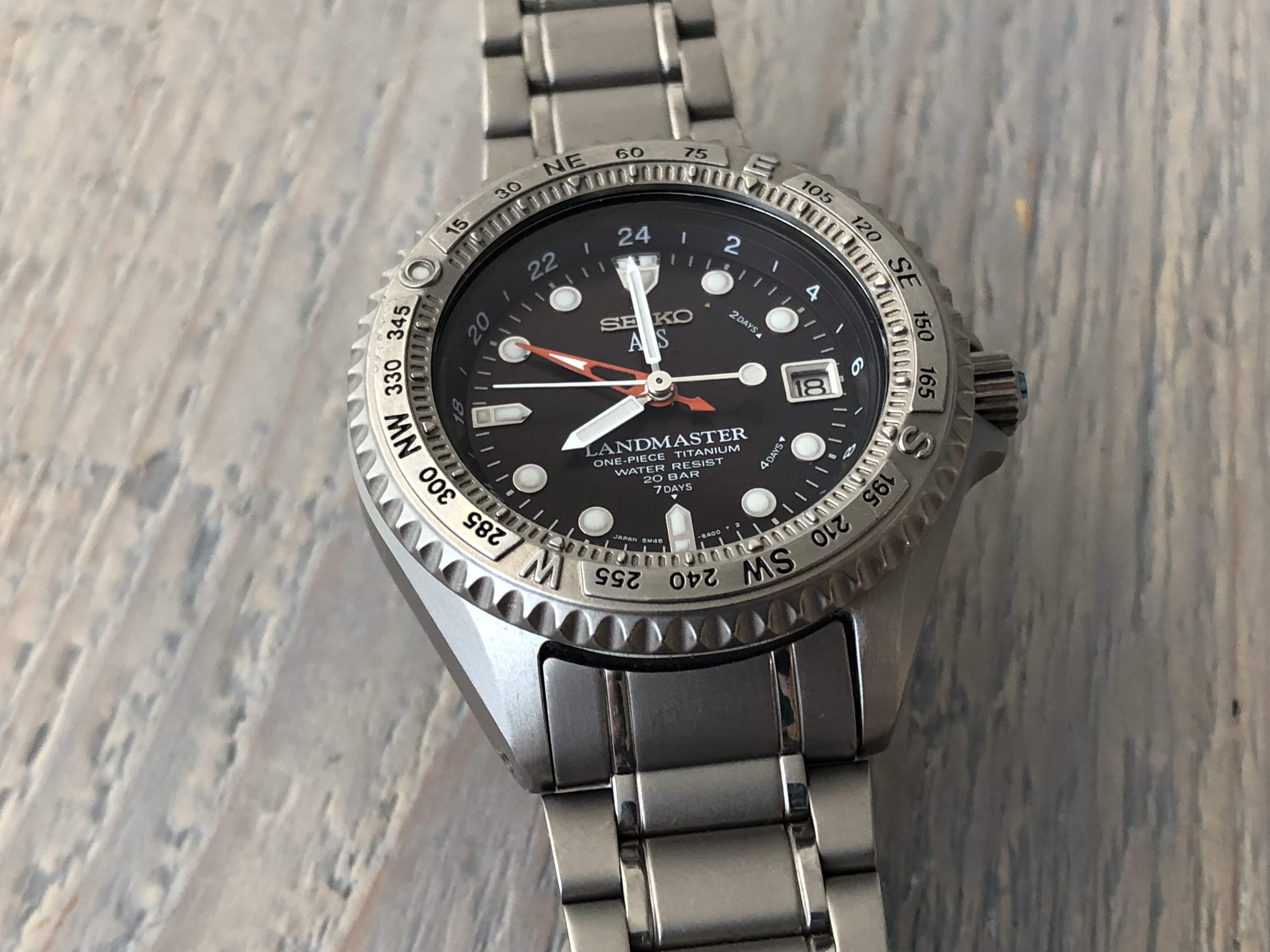 Seiko Landmaster Titanium AGS 5M45-6A01 (Sold)
€825.00
Sold out
Titanium only
The first titanium Landmaster, the GMT model SBCW was introduced in 1994 powered by the kinetic Cal. 5M45 with 7 days power reserve. The inner flange ring now included 24 hour markings rather than emergency codes (which are on the back) and the baton-shaped markers are replaced with dots.
The Landmaster watches, as mentioned in the Seiko book "A Journey in Time", belonged to the "Master" series of watches including the Scubamaster, Flightmaster and Landmaster. These days, the Scubamaster line no longer exists, but we have the Marinemaster series. Seiko Designer Mr. Tokunaga calls the Landmaster he conceived "a watch worth entrusting your life to".

GMT
The Landmaster's GMT hand is slaved to the minute hand. The hour hand is independently adjustable, this in one hour jumps of course without the minute or seconds hand stopping, and the date following it. So the local time ( and date - it follows the hour hand both forwards and backwards ) is always shown with the main hands. The GMT hand always tracks whatever home timezone you synched it to when setting the minutes.
Thus, when the GMT hand is set to "home time" and you are at home, you would have the normal hour hand at that time too - well, to be specific, the normal hand and the GMT hand come close together again when you approach the 24:00 hour time frame more and more.
Obviously, the GMT hand rotates once every 24 hrs, but the hour hand, twice. This means that the GMT and the hour hand will move away from each other and back again in the 24h period (i.e. the hour hand is twice as fast).
Now don't worry, the GMT is supremely simple, when you hop on a plane, you pull out the crown and adjust the main hour hand (not the GMT hand) in one hour increments to the new local time, leaving the mins and secs carrying on, unhacked. Push back in and you are good to go.
Transpolar, but not by plane..
A special "Transpolar" 1877 pieces limited edition from 1997, SBCW009, features a blue dial, baton markers, and yellow GMT hand and commemorates the crossing of the North Pole by Mitsurou Ohba - from Siberia to Canada in 1997. On the dial one can not only find a map of the North Pole, but in fact the starting and endpoint of the expedition, which is marked with little yellow lettering: Kap Arktitscheski - Ellesmere Island. The number of watches produced, 1877, probably can be explained by the birth year of Seiko itself. In 1877 Hatori (Seiko) opened his first watchshop in Tokyo.
Sagaramatha
Another special edition, SBCW021, was released in 1998 and features a ceramic bezel, no minute markers on the dial, and the name "Sagaramatha" to commemorate the attempt to summit Mt. Everest by Ken Noguchi. A numbered limited edition of 300, SBCW027, was released in 1999 along with a similar unlimited release, SBCW021, featuring the heights of 7 summits on the back.

A special "reverse" (counter-clockwise) GMT hand model SBCW023 with Cal. 5M47 was produced in 1998 only. This was used for Antarctic explorers and was developed on request of Mitsurou Ohba who was traversing the South Pole. The bezel and inner flange ring are numbered counter-clockwise as well. This special-edition "Landmaster South Pole" is prized today and features a case and bracelet made from cermet and a zirconium ceramic bezel. Seiko used the 5M47 movement because being on the opposite ends of the earth, navigation with a 24 hour hand is different on the South Pole than it is on the North Pole. As such, Seiko reversed the movement of the GMT hand and the markings on the bezel to allow Mitsuro Ohba to navigate the South Pole using the same methodology used on his North Pole expedition. The South Pole is the only watch that I'm aware of with a 24 hour hand that actually rotates counterclockwise!
Although the Landmaster series survives today, its looks has radically changed from how it was first presented by Mr. Tokunaga, the astute reader can see that in the list below.
SBBW005 – Black dial SS case AGS on dial 5M23? 1993?
SBCW019 – Blue AGS on dial SS case 5M43 1998
SBCW001 – Black CF? AGS dial, titanium case 5M45 1994
SBCW009 – Transpolar, Kinetic on blue dial, titanium case 5M45 1997 1877 pieces
SBCW021 – Sagarmatha, 1st edition 5M45 1998
SBCW023 – South Pole, 5M45 titanium/ceramics 1998 800 pieces
SBCW027 – Sagarmatha, titanium/ceramics Ken Noguchi Limited Edition 5M45 1998 pieces
SBCW002 – Naomi Uemera Ltd Ed. titanium/ceramics 5M65 Gold Accents 2000 700 pieces
SBDW003 – Sagarmatha, 2nd edition 5M65 1999
SBDW005 – Black CF dial titanium case 5M65-0A20 2000?
SBDW007 – Blue dial SS Case 5M63 2000
??????? – North Pole, Black dial titanium case – etched crystal. 5M65?
SBCN003 – Summiter – 7K32-0A10
SBDX007 – Landmaster Automatic, titanium case, 8L35 2001?
SBDX009 – Landmaster 10th Anniversary, titanium case 2003 500 Pieces
Some history
Landmaster's predecessor is known as the Fieldmaster which started in 1984 using the hybrid digital analogue movement H558.
Supposedly it had to cover 20 characteristics, of which some are:
1. Water resistance it was capable of a 10 atmospheric-pressure depth.
2. Shock resistance from a height of 3ft. either by dropping a rock from that height onto it or by dropping the watch from that height.
3. Magnetic resistance it could handle 16,000A/m when specs only called for 4,800Am
4. Abrasion resistant crystal Hardlex was used. Sapphire probably would have been better but, wouldn't have stood up to decompression
5. Heat resistance +60 degrees C which is higher than the worlds maximum temperature
6. Cold resistance 2mm thick crystal with AR coating to prevent fogging and glare. It was tested to -40 degrees C without a problem
7. Corrosion resistance it's made of Titanium and will resist corrosion if left in salt water for more than 24 hours.
8. Chemical resistance it can't deteriorate from alcohols, cosmetic oils,
9. Dust resistant sealed against natural environment penetration ( dirt, dust .etc)
10. Gas resistant ammonia gas, carbon monoxide..etc.
11. Luminescence it's able to be read from distance of 25cm in complete darkness
12. Weight made from titanium it only had a total weight of 56grams
13. The case was to have characteristics built in for safety and reliability rounded edges, emergency signal code, compass, shroud for protection.
The Fieldmaster's position was gradually replaced by the newly launched Landmaster models in 1993, equipped with the early generation of Kinetic movements, known as Auto Generating System ("AGS"). Throughout the release of the landmaster range, they were powered by a variety of movements showcasing the evolution of Seiko's Kinetic movements and also the variety of movements offered by Seiko, namely quartz, kinetic, spring drive and automatic mechanical movements.