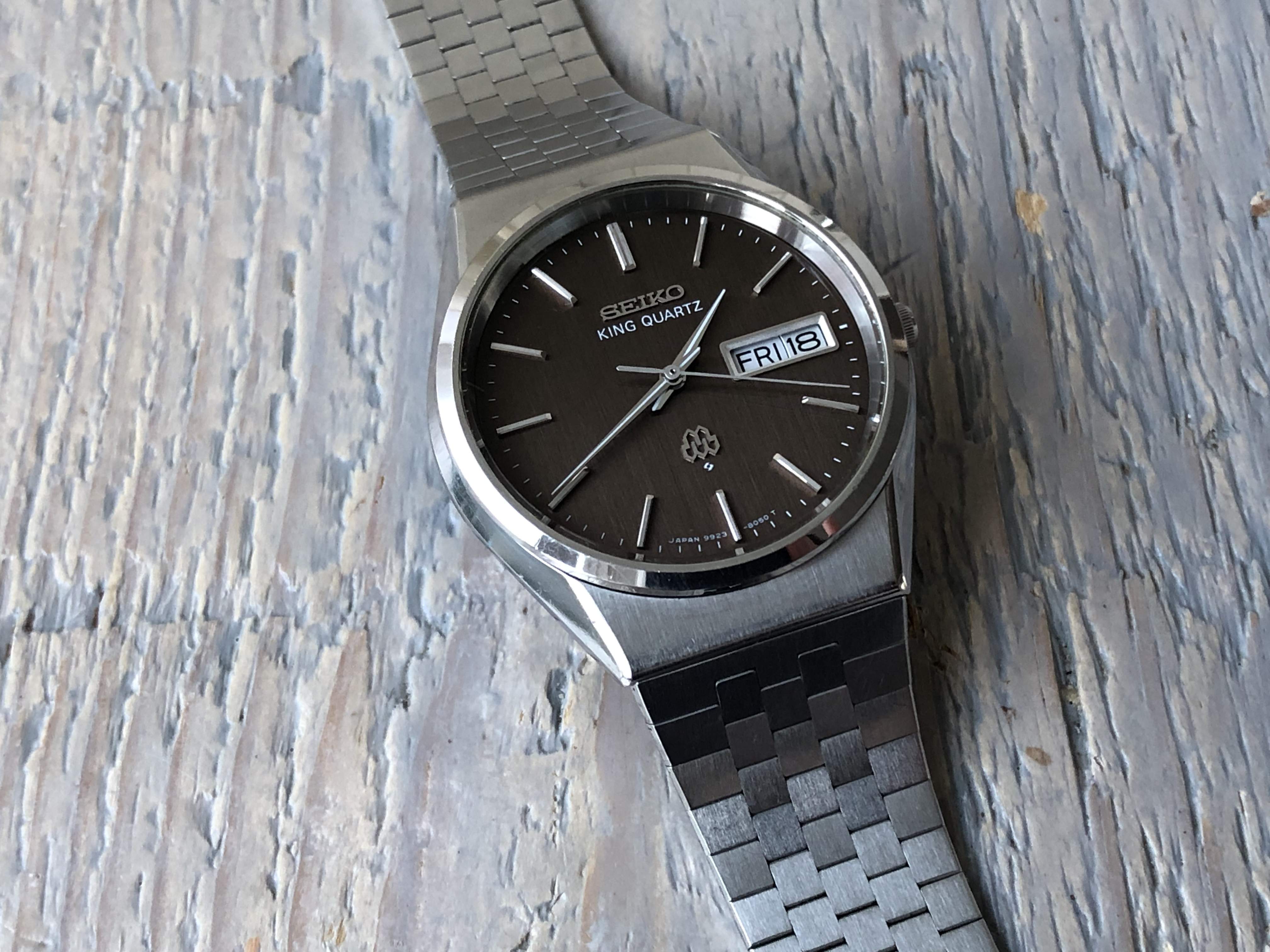 Seiko King Quartz 9923-8050 (Sold)
€235.00
Sold out
Twin Quartz Craze

When quartz was well established, at the end of the Seventies, the Seiko 1978 JDM catalogue showed the twin quartz caliber for the first time, however there were (eventually) at least three different design technologies behind the Seiko twin quartz models.
While quartz based watches are extremely accurate compared to mechanical watches, they are still not perfect. One of the main reasons for the inaccuracy in a quartz model is because as the temperature changes the oscillation of the quartz crystal varies slightly. This change in oscillation will cause the slight drift in timing. To compensate for these changes quartz watches will employ some kind of temperature compensation to maintain a steady oscillation.
Seiko Kings with the two oscillators are very interesting watches. Very accurate as you might expect from two time sources (crystals) and thermocompensation. In this small and rather inexpensive group of high end quartz models the oldest (probably before 1978) thermocompensation method is the one present in the King Quartz caliber - the method is based on having two quartz crystals both around 32 kHz and using the difference from them as a way to indirectly measure temperature - and from that the number of quartz ticks that need to be skipped in order to achieve a better accuracy

The five calibers
In all five different calibre series were introduced in less than two and a half years, they were used in the Superior, Grand, King and Quartz line ups. The 99 series was first released in August 1978 (specifically the 9983A), the 92 series released in December 1978, closely followed by the 97 series released in October 1979 (9722A, 9723A). Just under a year later the 96 series was released in September 1980 as caliber 9641A and 9642, the latter in the inconspicuous Seiko Quartz - a true wolf in sheep's clothes. Hot on its heels was the 94 series released in November of 1980 (9441A).

9923
The 9923 was a bit of an odd caliber for the King Quartz, as the base caliber 99 was represented in the Grand Quartz 9940 and in the Superior line 9980/83. On a more general note, Seiko more often than not delivered a surprise caliber that was used in multiple watches. It is hard to tell in which way the base caliber was changed apart from accuracy indications.
Back to base caliber 99. It is probable that the entire production of the Grand/King Quartz line spans a decade, 1975-1985. For caliber 99 however just 6 years. All of these watches have the strong lines and angles typical of the Seiko productions of the Seventies. The dial has the indices and the Seiko logo both applied and at six o'clock there is the "double honeycomb" logo, indicating the presence of a "twin quartz" caliber inside.