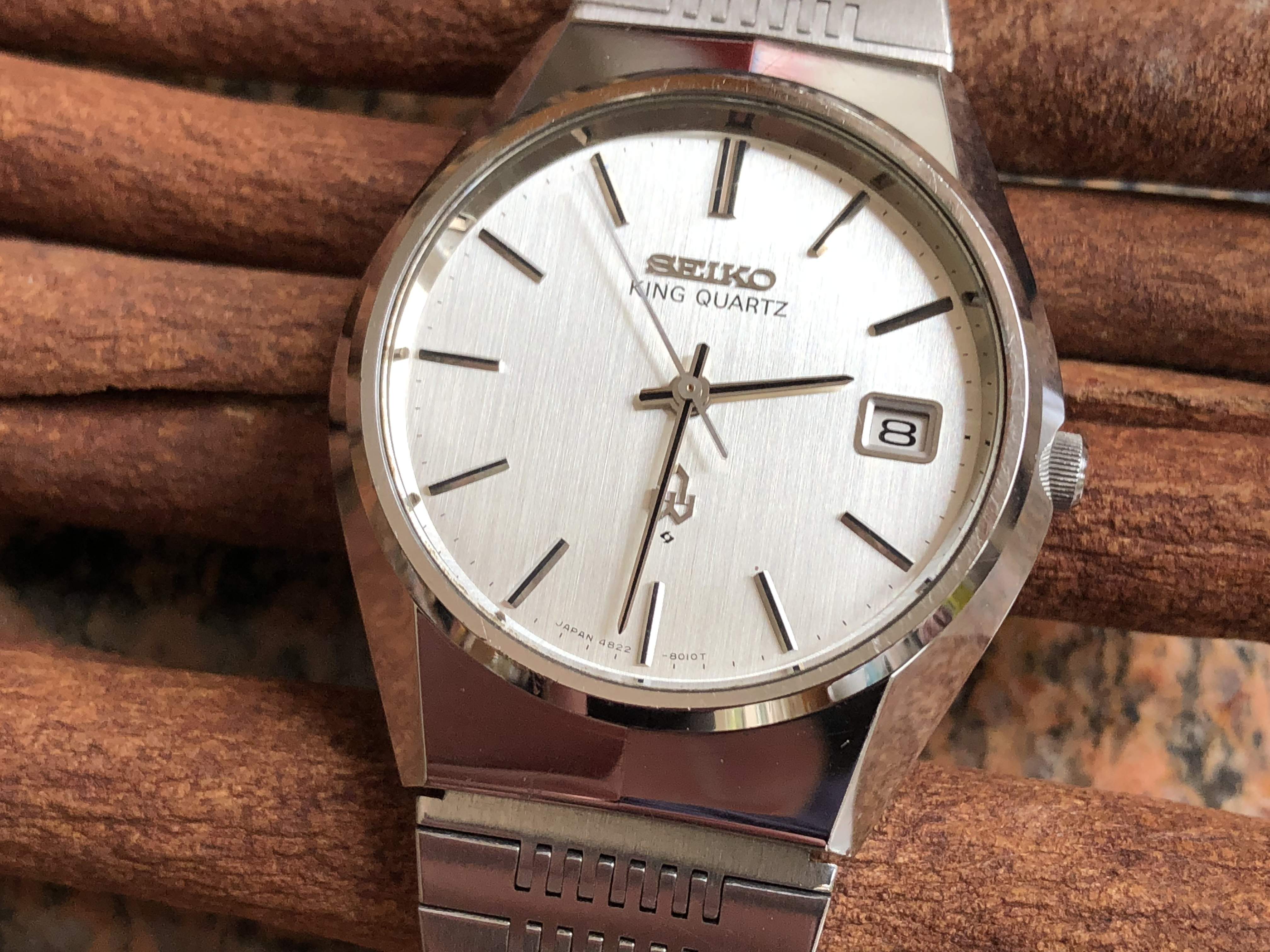 Seiko King Quartz 4822-8010 (Sold)
€225.00
Sold out
This 4822, like its co-habitant the 5855/6 in the Japanese catalogues of 1975, is a very solidly made quartz (your watchmaker will love it!). It is however a thicker watch than its descendant the 5856. To be sure, it has huge presence and its thermo-compensation, due to its relative thickness, is still excellent after all these years.
The Silver linen dial work is impeccable, this truly is a high end watch. You noticed of course black striped hand? It gives this watch something extra..... great legibility and some "punch". That punch is also implemented in the mechanics of this watch, it has that special Seiko gimmick of the "jumping seconds hand". This means that it will jump ahead 10 seconds when you pull the crown to adjust the time. It makes time setting so much easier!
In my experience these single quartzes are among the most accurate vintages; the twin quartzes like the 99 series have the specs for sure, but after 40 years or so… build quality and robustness gain the upper hand. The early King Quartzes truly shine!
The King Quartz at hand is fully original with an original bracelet and runs to specs.
Manufacture: Seiko
Model: King Quartz
Reference: 4822 8010
Movement: Quartz at 10 Seconds PM
Serial No.: 60xxxx
Case: Tanaka design 36x41x11mm without crown
Crystal: Acrylic 30mm, Serial#: 300WB0GA00
Dial: Silver Linen
Bracelet: XGB430 185 mm around, bracelet links: push pin
Lugs & Clasp: 19mm lugs, springbar diameter: 1,8x18mm, clasp diameter: 17mm clasp, clasp pin: 1,0x15mm
Production: 1976
Condition: 08 - Very good: sparkling, some swirls, easily polished
Service: Not necessary
Box: No
Papers: No