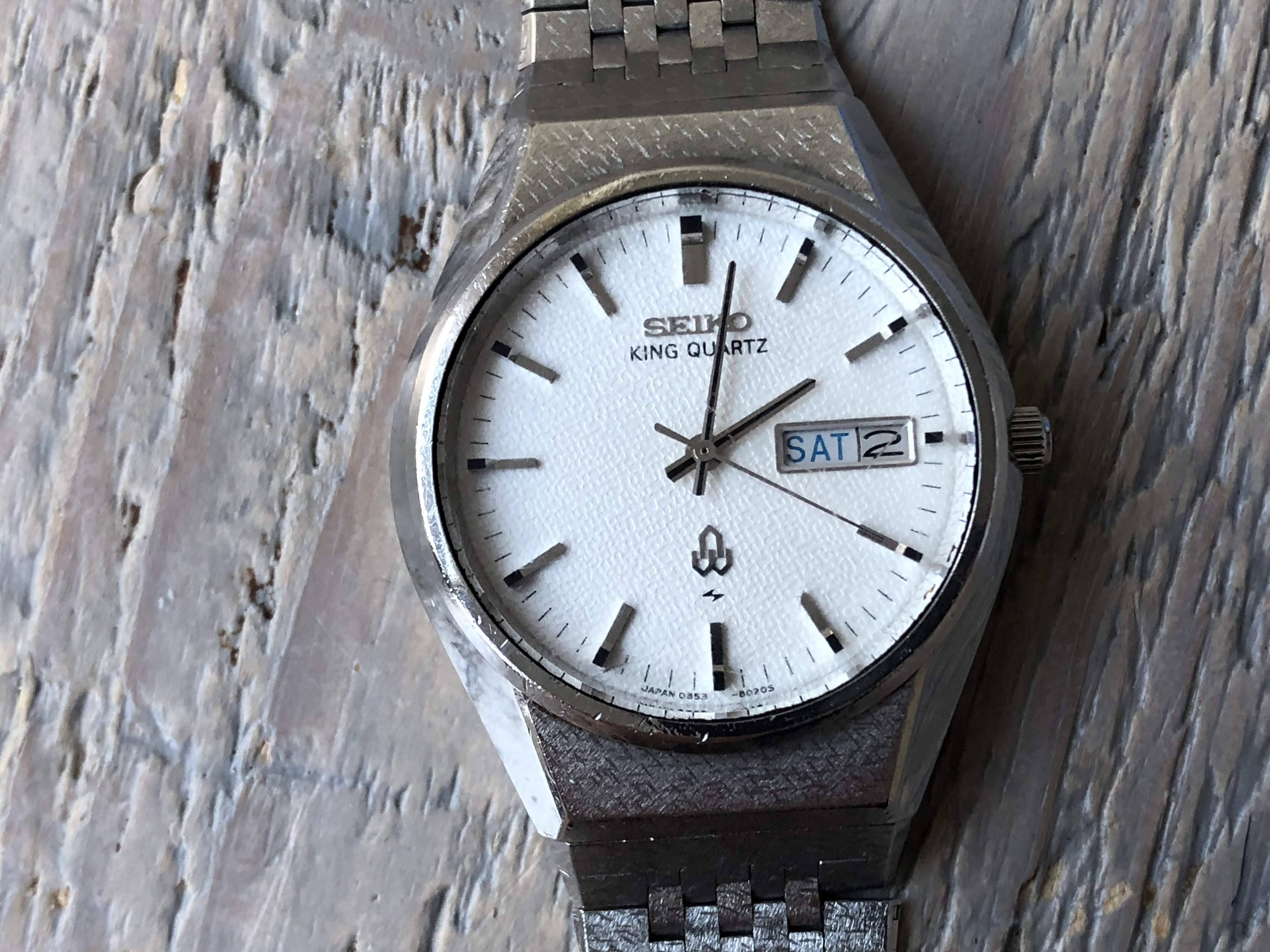 Seiko King Quartz 0853-8025 (Sold)
€225.00
Sold out
In 1975 this robust, no holds barred King Quartz caliber appeared right next to the 4843 Grand Quartz caliber (48GQW). A direct descendant of the 38QT caliber, it was printed in the catalogues as 08KQW, and next to it a 08QTW (more generally known as the Quartz QT). One can honestly say that pricing was a mystery, even if the quality was not, as the dial work was exceptional. The mentioned models were not clearly ordered in price tiers. Generally V.F.A is more expensive, as is gold plating and a bracelet added (integrated or not). Slightly later it was to be succeeded by the equally robust 4823 caliber – now that made sense, as one immediately thinks of the even more expensive brother the 4843 GQW.
The 0853 was a very solidly made quartz (your watchmaker will love it!), much thicker than its descendants and has huge presence (and in fact thermo-compensation due to its sheer bulk), the dial work as stated was impeccable and very involved – truly a high end watch. Strangely though for the 0853, the crown was somewhat neglected and not embossed with the quartz logo, unlike the other calibers mentioned, the 4823 and the 4843 (depicted in the GQ paragraph).
In my experience the quartzes mentioned are among the most accurate vintages; the twin quartzes like the 99 (9940 pictured above, right) series have the specs for sure, but after 40 years or so… build quality and robustness gain the upper hand. The early King Quartzes truly shine!
----------------
Manufacture: Seiko
Model: King Quartz
Reference: 0853 8025
Movement: Quartz at 10 spm Seconds PM
Battery: SR43SW (battery)
Serial No.: 69xxxx
Case: Tanaka design 36x42x11mm without crown
Crystal: Acrylic 30mm, Serial#:
Dial: White Vinyl
Bracelet: XQB270 220 mm around
Lugs: 18mm lugs
Production: 1976-09