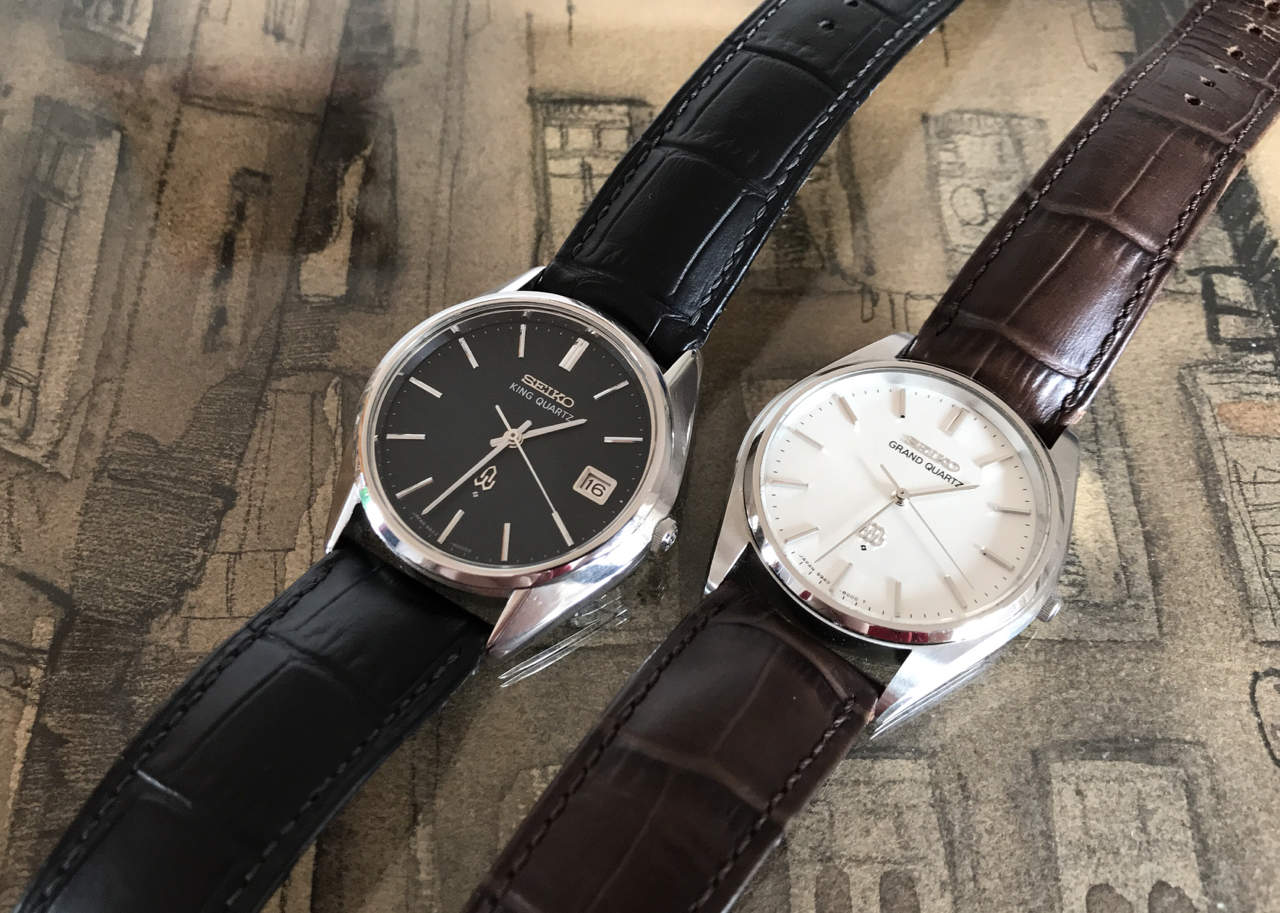 Seiko Grand Quartz 9940-8000 (sold)
€300.00
Sold out
This silver dial 9940-8000 is an unworn, pristine quartz right out of a time capsule! It comes with box and the flawless GQ buckle on a new lizard grain black strap.
In all my years of collecting I have never seen its like - ultra rare.. flawless... accurate!

---
In 1978 the 9940 caliber was first produced. Here it is depicted with silver dial and a Hirsch Duke 20mm dark brown strap. Sadly, the blue dialed 4823-8000 next to it has been sold already. But they just look great together!
With an accuracy rated at 10spy - the same as today's Grand Seiko cal. 9F - the 9940-8000 is shown for the first time in the JDM 1979 V2 catalogue, on page 6 priced at 75,000 Yen. In todays money that would be some 940 dollars. There's only one other reference with the cal. 9940 in the catalogue and it is on page 4, the 9940-8010 with gold-plated case, leather and gold dial, setting you back 90,000 yen.
There are minimal changes in the next few years, until finally 1985, after which both the Superior and Grand Quartz lines aren't present anymore in the catalogue - moreover, there are no other models with twin quartz calibers on it.
It is certain that the entire production of the Grand Quartz line spans no more than a decade, 1975-1985. For caliber 9940/9943 however just 6 years. All of these watches have the strong lines and angles typical of the Seiko productions of the Seventies (although as mentioned not as masculine as what went before). The dial has the indices and the Seiko logo both applied and at six o'clock there is the "double honeycomb" logo, indicating the presence of a "twin quartz" caliber inside.
A feature of this particular caliber - you know it by now - is the total absence of any day and date indication; maybe this is why watches running the 9940 are quite scarce.