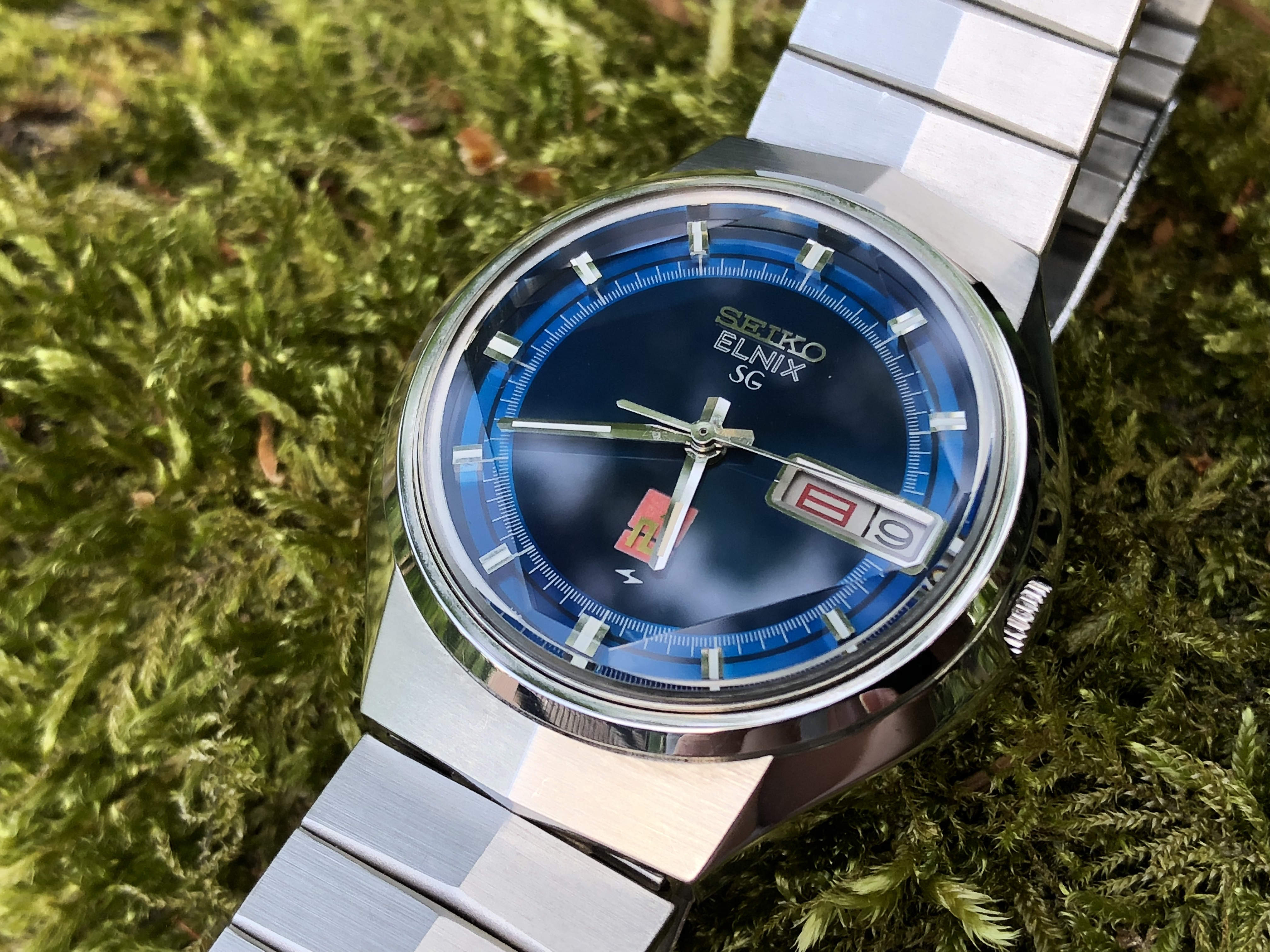 Seiko Elnix SG 0723-6000 NOS (Sold)
€250.00
Sold out
This is a new Seiko Elnix SG from 1973 that has never been worn. On the dial the gold colour applied Elnix logo spirals upward arrow-style (symbolizing electricity). Underneath the nostalgic logo is the symbol of Seiko's Daini division. This watch is equipped with a day-date complication, it also has a smooth sweeping second hand which is a dead give away that it is not a quartz, but to confuse matters, it is also not an automatic. It is actually a chronometer - though not officially certified - which is proclaimed by the blue dial under that gorgeous facetted crystal. It has in fact a contrasting 1/5th seconds indicator ring, which is quite the rarity as electric watches go, but befitting a Superior Grade Elnix (marked SG).
So, in the short period between 1957 and the mid 1970s Electric Watches reigned. The electric movement has a battery, also either a balance wheel or a tuning fork and either electrical contacts or a transistor. This however was a very short-lived transitional phase: transistors were just becoming available and mass-produced quartz watches had not yet appeared.
Electric Watches really have died out, the last one was probably made in the mid 1970s. In strict terms, Electric Watches are those without any electronic components i.e. no resistors, diodes or transistors; just a coil, contact and battery. A 1.55 volt Silver Oxide Battery breaths life into the movement, not a rotor or a hairspring. These watches still use a balance-wheel and should not be confused with quartz-controlled movements or Bulova's Accutron "tuning fork" technology.
The fascinating Seiko Elnix had five series of electronic movement calibers, with the Elnix marked as the last Emperor; the most advanced and last transistorized electric watch.
The Elnix production period however is short lived, until 1976.... as soon after the Quartz would dominate the Japanese watch industry. Still, they went the full mile, evolving this electronic watch eventually into the 0723 movement of the Elnix SG. Seiko developed this 28800 bph movement - with 8 beats per second- for accuracy of course, SG on the dial signifying Superior Grade, and they brought that home with the 1/5th seconds ring on the dial. Also these 0723 SG's were almost 40 percent more expensive than the regulars.
These electric watches are an important milestone, and most of these watches still run problem free, when you want a good quality Elnix be prepared to pay the price. Fortunately, as it happens (for a lot of watches under Seiko's sway) that won't break the bank.
Manufacture: Seiko
Model: Elnix
Reference: 0723 6000
Movement: Electric
Battery: SR43SW (battery)
Jewels: 12 jewels
Serial No.: 36xxxx
Case: Tanaka design 36x39x12mm without crown
Crystal: Hardlex Facetted, Serial#: 285V31GC
Dial: Blue Electric
Bracelet: XAA930 195 mm around
Lugs & Clasp: 18mm lugs
Production: 1973
Condition: 10 - New
Service: Not necessary
Box: No Box
Papers: No Papers