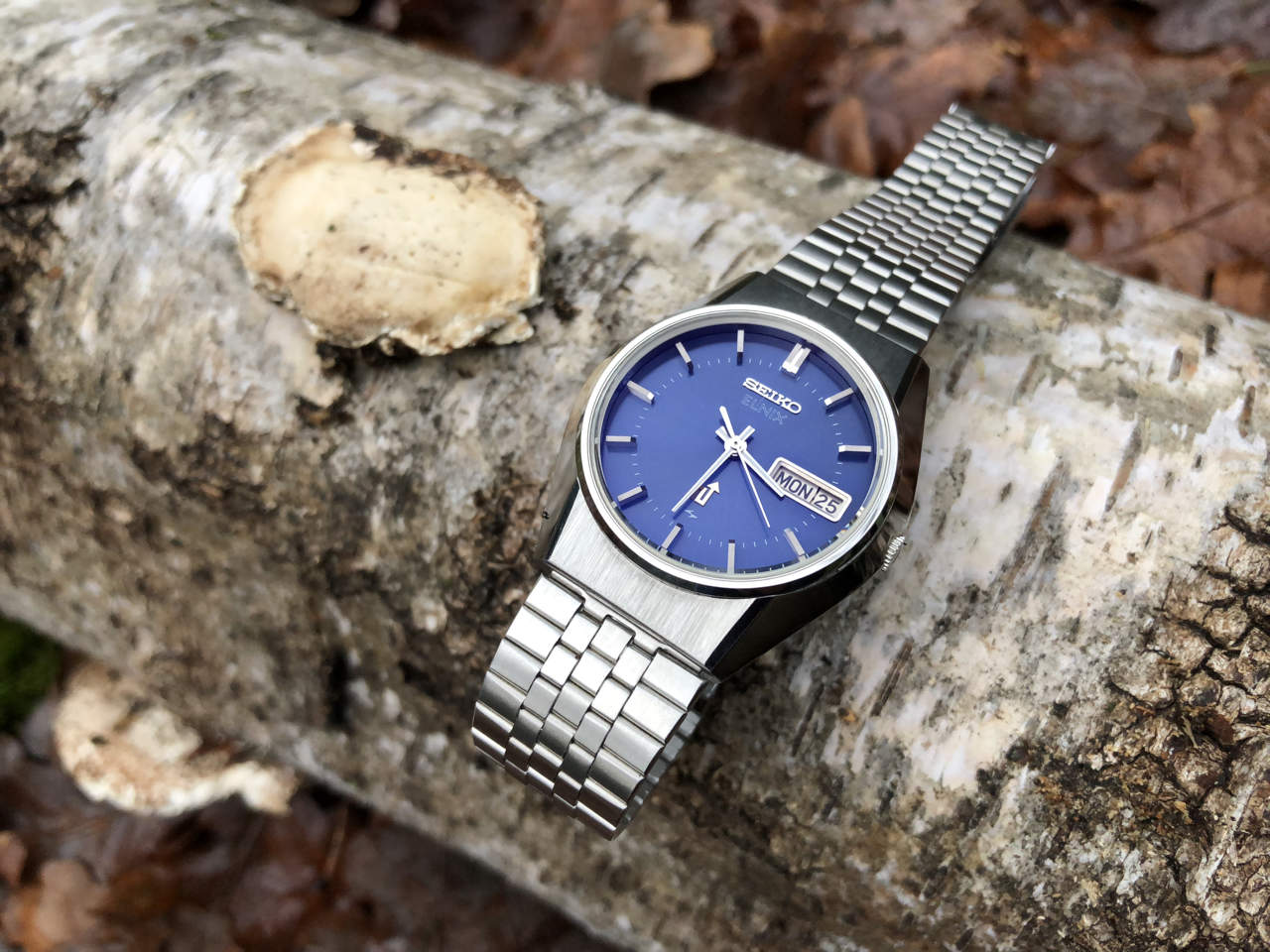 Seiko Elnix 0703-7110 NOS (sold)
€225.00
Sold out
This is a new Seiko Elnix from 1975 that has never been worn. It has a blue dial which is quite the rarity. Also on the bracelet an extender has been attached, it is the original Seiko extender which was also featured on the Lord-Matic of the time. It is quite the innovation as it is not just an extender but operates on a spring - thus it always fits! Your wrist may swell a bit, or contract, this Elnix will fit comfortably at all times.
---
In the short period between 1957 and the mid 1970s Electric Watches reigned. The electric movement has a battery, also either a
balance
wheel or a tuning fork and either electrical contacts or a transistor. This however was a very short-lived transitional phase: transistors were just becoming available and mass-produced quartz watches had not yet appeared.
Electric Watches really have died out, the last one was probably made in the mid 1970s. In strict terms, Electric Watches are those without any electronic components i.e. no resistors, diodes or transistors; just a coil, contact and battery.
The fascinating
Seiko
Elnix
is an electric watch and quite uniquely so.
Seiko
had five series of electronic movement calibres, with the
Elnix
marked as the last Emperor; the most advanced and last transistorized electric watch.
On the dial is the gold colour
Elnix
logo spiraling upward arrow-style (symbolizing electricity). Underneath the nostalgic logo is the historic symbol of Daini. The watch is equipped with day-date functions, it also has a smooth sweeping second hand (!) which is a dead give away that it is
not
a quartz, but to confuse matters, it is also not an automatic...
The fact is, this watch is powered by the 16 Jewels 0703A movement. It has a frequency of 4 Hz and an amplitude of 8 beats per second or 28,800 bph. That puts it in the same league as a chronometer. A 1.55 volt Silver Oxide Battery breaths life into the movement, not a rotor or a
hairspring
. These watches still use a
balance
-wheel and should not be confused with quartz-controlled movements or Bulova's Accutron "tuning fork" technology.
The production period for the Seiko
Elnix
, as stated, is short lived, until the end of 1975.... as soon after the Quartz would dominate the Japanese watch industry. But they are an important milestone; and most of these watches still run problem free.
Manufacture: Seiko
Model: Elnix
Reference: 0703 7110
Movement: Electric at Seconds PY
Serial No.: 58xxxx
Case: Tanaka design 37x40x12mm without crown
Crystal: Acrylic
Dial: Electric Blue
Bracelet: XBA140 210 mm around, bracelet links: n.a.
Lugs & Clasp: 18mm, springbar diameter: , clasp diameter: , clasp pin:
Production: 1975
Condition: New: - 10
Service: Not necessary
Box: No
Papers: Yes