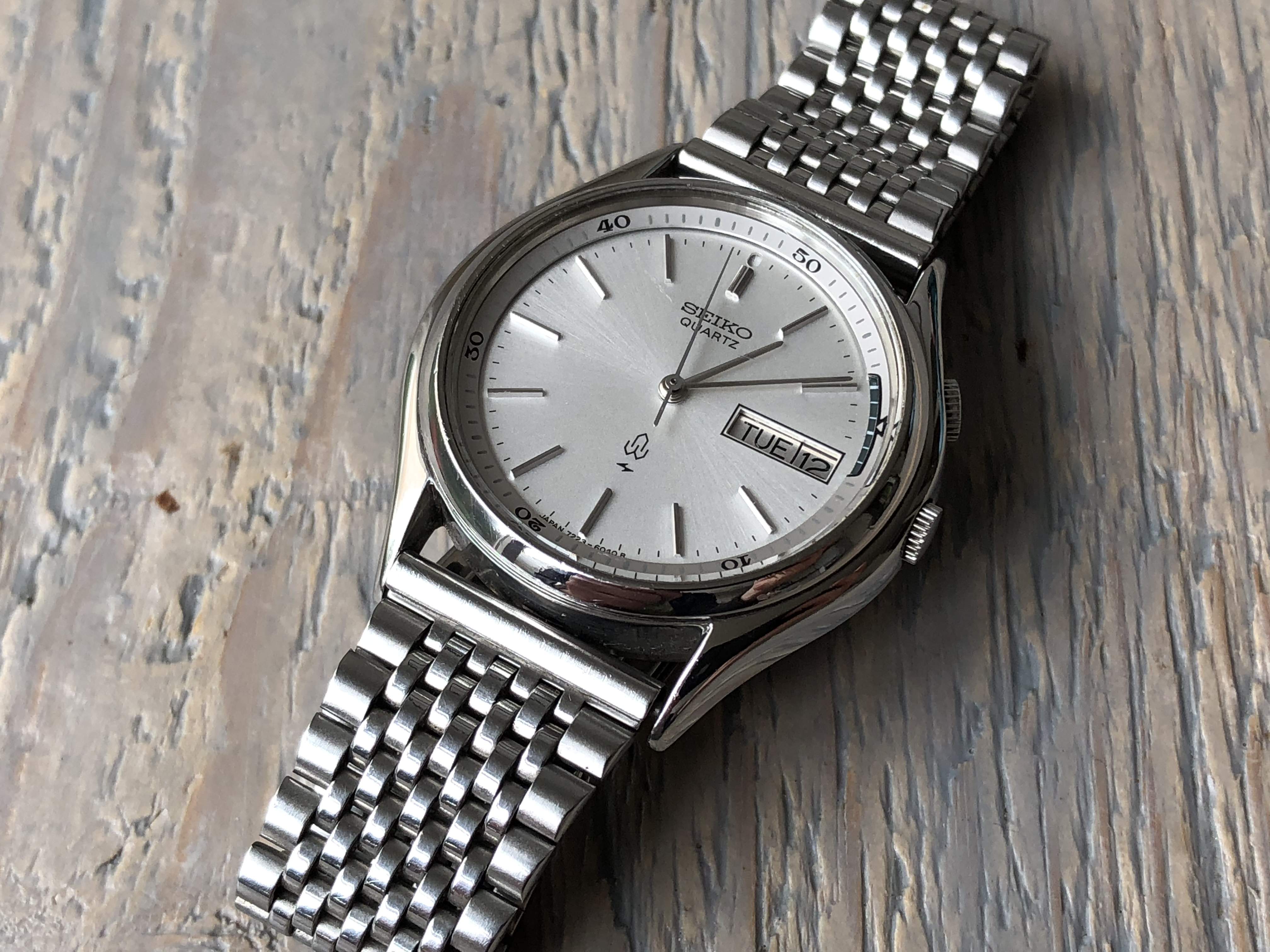 Seiko Alarm Quartz 7223-6040 (Sold)
€125.00
Sold out
Virtually nothing is known about this Seiko Alarm Quartz - a quick comparison to the analogue Bell-Matic is obvious but the inner workings of this special quartz can be nothing like its old school counterpart. Indeed, after this Seiko went to town on the alarm quartzes, branching out into a great variety of calibers and eventually functions.
This quartz however is refreshingly simple, it has a scale with center marker to set the alarm in increments of 5 minutes. That however makes the alarm inherently less accurate and thats why the scale is there. Within that zone the hour hand must be to trigger the alarm, also when the time is not set exactly by a five minute signal the alarm may ring sometime between 5 minutes to and from the designated alarm time.
To set the alarm one has to pull the alarm crown to the second click and the little pinhole on the dial shows orange meaning that the alarm can be set. Do your bussiness and then push the crown back to the first click - on a white dial the pinhole will show blue, with white meaning of course that the alarm is off.
Check to see if the alarm goes at at all (alarm test) by operating the alarm crown within 4 seconds as follows: from normal position pull out to first or second click, push to normal, pull out again - the alarm rings. Push back in to stop the alarm.
There is a seperate winding mechanism for the alarm crown, even though this is a quartz. Freqent alarms therefore do not impact battery life, but you will be happy to see the battery hatch on the caseback to easily swap it yourself. Most watches from the eighties had abanoned this feature as battery life had increased so much that customers felt no resistance visiting a jewelry store every couple of years to have it done. Even then, when the watch started jumping two seconds to indicate "battery change necessary", it just kept on ticking for another 6 months. Anyhow, customers might even buy a new Seiko...
Manufacture: Seiko
Model: Quartz
Reference: 7223 6040
Movement: Quartz at 15 spm Seconds PM
Battery: SR1130SW (battery)
Serial No.: 00xxxx
Case: Classic 34x42x11mm without crown
Crystal: Acrylic 29mm, Serial#: 290P05HN03
Dial: Silver Sunburst
Bracelet: Vintage Replacement (this was a leather only dress version) 200 mm around
Lugs & Clasp: 19mm lugs
Production: 1980
Condition: Very clean, some light scratches case & crystal, easily polished - works great!
Service: Not necessary
Box: No
Papers: No