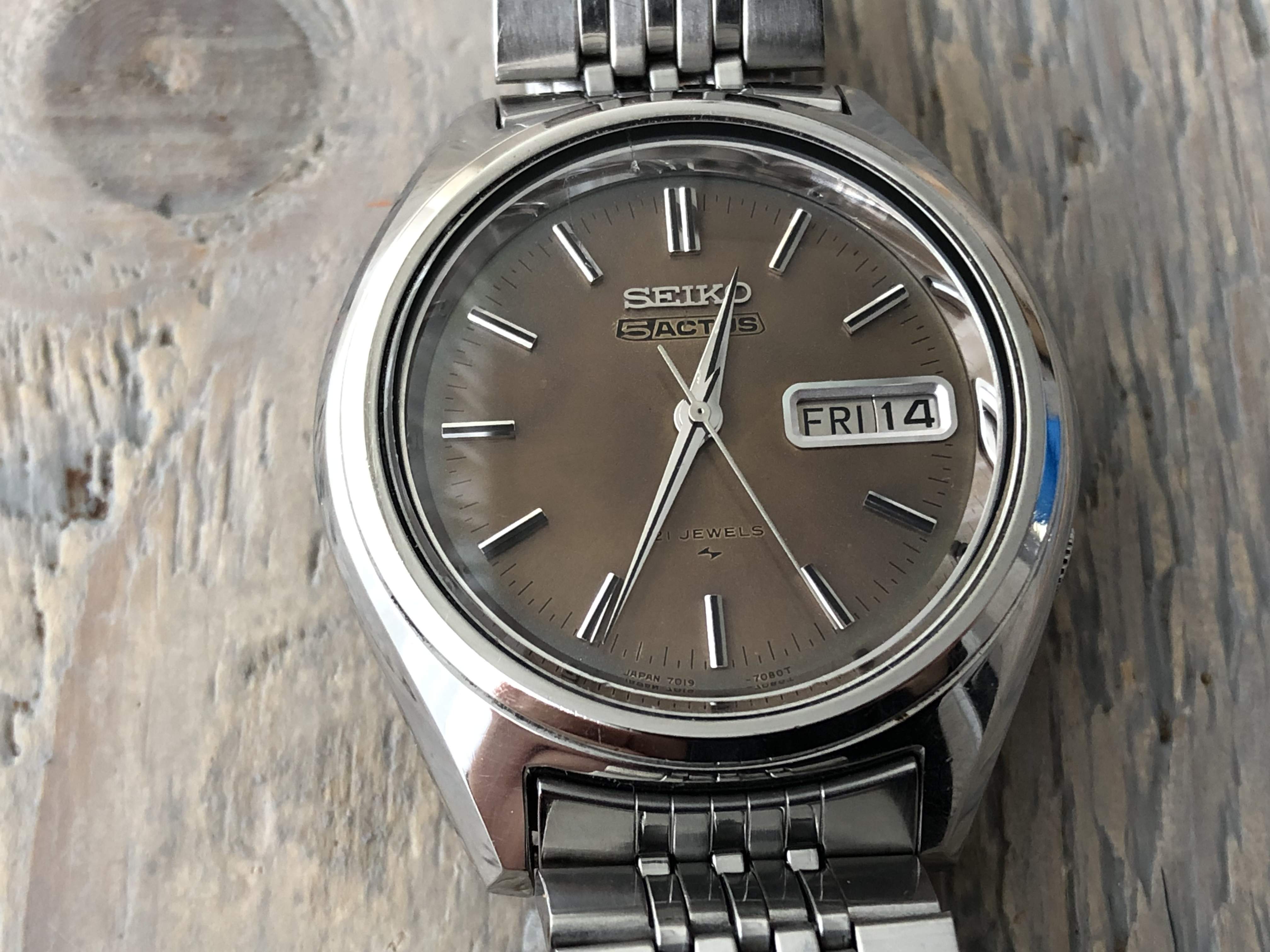 Seiko 5Actus 7019-7060 (Sold)
€150.00
Sold out
This watch runs great! Maybe 4-5 spd slow.

The "other" 5Actus caliber is the real workhorse 21 jewel 7019, beating at 216000bph with 43 hours of power reserve. It is not a hacking movement and developed on its own trajectory.
The 7000 series was a family of mid-range mechanical watch movements from Seiko from the 1970's through the 1990's. Produced from 1973, the 7000 family was a midrange mechanical offering. It was the basis for the popular 7S26 family, and its descendants remain in production today. The family operated at the same 21,600 A/h still used by midrange Seiko mechanisms and all offered 43 hours of power reserve. All members of the family feature Seiko's bi-directional Magic Lever winding system.
There were three versions of the 7000 family before the introduction of the 7S26 with its new quickset day and date mechanism and other improvements:
1.The original 7005/7006/7025 movements appeared in the early 1970's; had quickset date but not day
2.The line expanded to include cam switching modular chronographs with the 7015/7016/7017/7018; quickset day by pushing the crown, the non-chrono 7019 however was also included
3.The line was resurrected in the 1980's as the 7001/7002/7009/7039, with the 7019 still being in production.
The 7005 and 7006 (date only and day/date respectively) designs were re-used and updated in the 1980's as the 7002 and 7009. These later movements were optimized for price and mechanized production, using many more stamped steel and plastic parts. Although they have proven fairly robust, their accuracy has suffered due to this change.
First generation

7001A: -

7002A: Date


New date (quickset) mechanism

7005A: date

7006A: day, date

7025A: date, small rotor


Day setting by pushing crown (date by turning)

7009A: day, date, 17 jewels

7015A, 7017A: day, date, chronograph 60s

7016A: day, date, chronograph 60s, 30min, 12h

7018A,B: day, date, chronograph 60s, 30min, 23 jewels

7019A: day, date, 21 jewels

7039A: finer finished 7019A


Quickset day and date

7S26A: day, date, 21 jewels

7S36A: day, date, 23 jewels

New regulator

7S26B: day, date, 21 jewels

7S36B: day, date, 23 jewels